Happy Thanksgiving! Sorry I haven't posted in a while, I am ridiculously sick. I think I may have H1N1, but I've been feeling a tiny bit better with each day that passes. I just wanted to update to let you guys know the winner of the Jen's Fashion Plus Contest: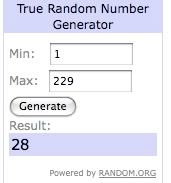 Congrats to the 28th commenter, Bianca/Zaftigchicks! Email me your mailing address and a link to the item of your choice.
And, because I hate blog posts without pictures, here are a few things I am grateful for:

My family



My friends


Life!



And, of course, all of you! Have a good day, guys!